WellSpring CNPs specialize in adult/gerontology, acute care, family medicine, psychiatric mental health in a variety of environments.
CNPs serve as an extension of our in-house physicians by providing thorough, on-site care, reducing the need for outpatient appointments, and decreasing patient ER transfers and hospitalizations.
CNPs play a valuable role in caring for rehab patients as well as long-term patients in skilled nursing facilities.  They also provide routine follow-up care, acute intervention, and a variety of medical services in assisted living centers as well.  They offer on-site medical care that helps to avoid the stress of traveling for doctor appointments by providing care in the comfort of the patient's own setting.  Their expertise supports the physician care the patient receives and can often provide immediate intervention and monitoring to prevent unnecessary trips to the ER and hospitalizations.  Our CNPs also provide medical care at drug and alcohol addiction treatment centers.
Our CNPs also help to keep our staff healthy and happy by offering physicals to new hire employees as well as being available for walk-in clinics to make it easy for them to seek medical care without the hassle of missing work and waiting for appointments.
In addition to rounding on patients, the CNP is remotely available to address any needs or concerns that may arise at any facility.
Our certified nurse practitioners can help:
Speak with patients & families
Admit, discharge, & do scheduled rounds to check on patients.
Order, perform, analyze, & interpret diagnostics like lab work, EKGs, & x-rays.
Diagnose health issues & develop individualized plans of care
Treat & manage acute/chronic conditions such as high blood pressure, diabetes, infections, & injuries.
Have prescriptive authority, providing patients with necessary medications for disease processes, treatment plans, & pain management.
Educate patients & families on disease processes, ways to prevent illness & injury, & how lifestyle choices can impact their wellbeing.
Record medical histories, health diagnoses, & related symptoms.
Perform routine & diagnostic physical exams & assessments.
Detect & monitor changes in patients' health & modify treatment plans as needed.
Assess new admissions to skilled nursing or assisted living facilities.
Perform required face-to-face visits for hospice or home health patients.
Rehabilitation & Physical Therapy Patients
CNPs in the rehabilitation setting offer advanced levels of expertise in pain management and influencing care while supporting therapy service staff throughout the healing process. Additionally, CNPs provide discharge planning and education needed to enhance safety and promote a speedy recovery.
CNPs in the geriatric group work with adults who face challenges in the aging process. Most time is spent managing the disease process of one or more ailments such as high blood pressure, diabetes, dementia, etc. while watching for any new symptoms and monitoring for drug interactions. End-of-life discussions are presented in a compassionate manner, honoring the wishes of the patient and family members.
Acute situations can arise at any moment in time. CNPs must be prepared to act promptly and efficiently to provide immediate treatment to prevent progression of an acute situation and potential hospitalization.
CNPs provide patient and family-centered care to the long-term patient. They can be a source of informational and emotional support which significantly improves timeliness of care when it comes to preventing unnecessary hospitalizations.
In the AL environment, having a CNP on site offers the convenience of "house calls" eliminating the need to set up transportation to attend off-site appointments.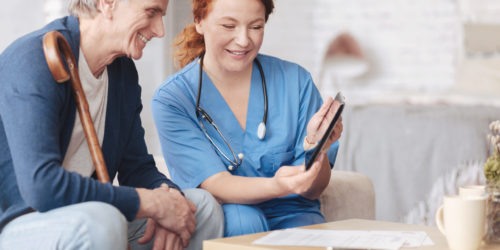 On-site Wellness Clinics / Programs
Keeping staff healthy is key to operating a successful practice. WellSpring's on-site wellness clinic provides an opportunity for the CNP to promptly assess an employee when they encounter a need for primary care, preventing time off work needed for doctor appointments. Services include antibiotic therapy for ailments such as upper respiratory infections, ear pain, urinary tract infections, allergic reactions, work safety concerns, etc.
Dementia, Alzheimer's, psychiatric needs in the geriatric population are increasing, often requiring pharmacotherapy as well as non-pharmacological options to provide safe treatment and adequate care. CNPs must be aware of the best treatment plan, as each person living with memory care issues is unique. Treatment must be developed based on the rate of the specific disease progression, as well as individual and family goals and values.